Saginaw Valley Equine Culture – Our "Why"
W

e believe the relationship between equestrian and horse is special. Our bonds with horses are built on acts of service, love, and trust. This connection enriches the lives of people in our community and the world.
W

e believe caring for the relationship between equestrians and horses is a gift from our creator.  Building teams of leaders to care for these relationships is our mission. Why do we do what we do? Because we believe.
SVEC – Our "What"
S

ince 2003,  Saginaw Valley Equine Clinic has been providing top-notch care with highly-qualified leaders and specialists in Equine Sports Medicine, Reproduction and Surgery.  We will be there every step of the way – whether it is producing the foal of your dreams, providing advanced surgical needs or giving your performance horse every advantage.
Carissa Rodarte
We've all been there - it's feeding time, your favorite horse is eating up their grain like there's no tomorrow, and suddenly they freeze. Maybe they start extending their neck or coughing. After a [...]
Carissa Rodarte
Orthopedic surgeries can require a follow-up with regenerative intra-articular medications to help assist healing and to decrease the risk of further degeneration from biologic mediators. In arthroscopy procedures a bone fragment or weak detached [...]
Carissa Rodarte
Foaling season is right around the corner. Make sure you are prepared by having everything you need in one place. Here is a list of the important items to keep on hand. Emergency Plan  [...]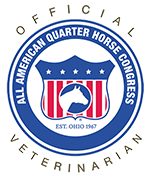 SVEC GameTime Sports Medicine is Official Veterinarian of the All American Quarter Horse Congress providing 24-hour care.