Saginaw Valley Equine Culture – Our "Why"
W

e believe the relationship between equestrian and horse is special. Our bonds with horses are built on acts of service, love, and trust. This connection enriches the lives of people in our community and the world.
W

e believe caring for the relationship between equestrians and horses is a gift from our creator.  Building teams of leaders to care for these relationships is our mission. Why do we do what we do? Because we believe.
SVEC – Our "What"
S

ince 2003,  Saginaw Valley Equine Clinic has been providing top-notch care with highly-qualified leaders and specialists in Equine Sports Medicine, Reproduction and Surgery.  We will be there every step of the way – whether it is producing the foal of your dreams, providing advanced surgical needs or giving your performance horse every advantage.
Carissa Rodarte
Date: 2022 Schedule The SVEC Sports Medicine Team is excited to be partnering with the MRHA for the 2022 show season. We will be at all four shows. The Delta Classic: May 12th [...]
ohnomaster
Date: September 27th - October 23rd The GameTime staff always looks forward to working one of the largest equine events of the year! As the official vet for the 53rd Annual Quarter Horse [...]
ohnomaster
Date: September 15th - 19th The Saginaw Valley Equine GameTime team will be at the MQHA Breeders Futurity & Great Lakes Classic! The event will be held in the MSU Pavilion, East Lansing, [...]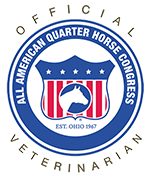 SVEC GameTime Sports Medicine is Official Veterinarian of the All American Quarter Horse Congress providing 24-hour care.