We Are Open to Safely Serve You & Your Horses



Saginaw Valley Equine Culture – Our "Why"
W

e believe the relationship between equestrian and horse is special. Our bonds with horses are built on acts of service, love, and trust. This connection enriches the lives of people in our community and the world.
W

e believe caring for the relationship between equestrians and horses is a gift from our creator.  Building teams of leaders to care for these relationships is our mission. Why do we do what we do? Because we believe.
SVEC – Our "What"
S

ince 2003,  Saginaw Valley Equine Clinic has been providing top-notch care with highly-qualified leaders and specialists in Equine Sports Medicine, Reproduction and Surgery.  We will be there every step of the way – whether it is producing the foal of your dreams, providing advanced surgical needs or giving your performance horse every advantage.
Carissa Rodarte
Date: April 19th - May 1st The GameTime team is proud to be the official vet of the Sudden Impulse NSBA Show and Futurity. The event will be held at the World Equestrian [...]
Carissa Rodarte
What's your diagnosis? A 9 year old Standardbred gelding was referred to SVEC. The horse was not racing well and the owner found blood in his urine. What is your diagnosis and next [...]
ohnomaster
Date: October 28th - November 1st The Saginaw Valley Equine GameTime team will be on the grounds at the NRHA East Central Affiliate Regional Championship. The event will be held at the C [...]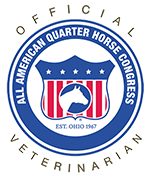 SVEC GameTime Sports Medicine is Official Veterinarian of the All American Quarter Horse Congress providing 24-hour care.